kisui Berlin Collection
Amlamé Top & Sua – Two-piece with trousers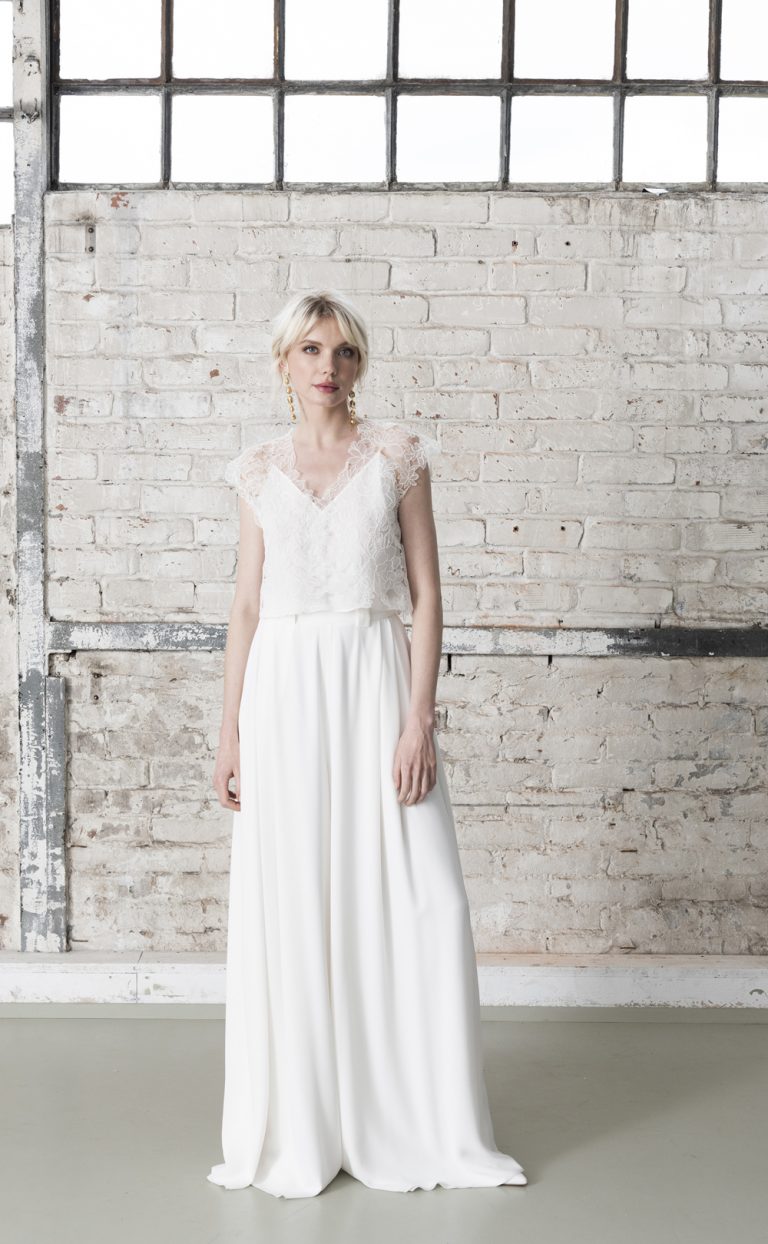 Details: Amlamé Top & Sua – Two-piece with trousers
Amlamé Top & Sua – Two-piece with trousers
Two-piece styles are very popular as bridal outfits. They are modern, unexpected and very changeable. A particularly beautiful combination is the Amlamé Top with the modern trousers Sua.
The Amlamé Top is made of a transparent organza with a beautiful floral pattern. Its transparency makes it romantic and modern at the same time. Wide straps adorn the top. V-necks at the front and back set the scene for the décolleté and the back. The top is half lined with a light viscose, cut like a spaghetti strap top to create a particularly beautiful transparency on the skin without being too sheer.
The Sua trousers are made from an ultra-modern fabric. For this georgette, PET bottles were recycled and reworked into fabric that is beautifully flowing and soft. Sua has a wide leg and a waistband with belt loops adorns the waist.
With the Amlamé top, Sua is a romantic combination. But of course you can style completely different combinations. For a cool look, choose our Inaya bodysuit. For a more playful look, our Valery Top is perfect. If you prefer a more classic and elegant look, try our Elise top or for your winter wedding you can choose the Jorun jumper. The combination possibilities are very diverse and you can use them individually so that you feel completely comfortable.
Two-piece combinations give you the freedom to transition into your everyday wardrobe after the wedding, as you can combine them individually in new ways.
The Amlamé top is vegan.
The Amlamé top and Sua trousers are made in Germany.