kisui Berlin Collection
Crop Top & Skirt with Volant – Modern Two Piece Set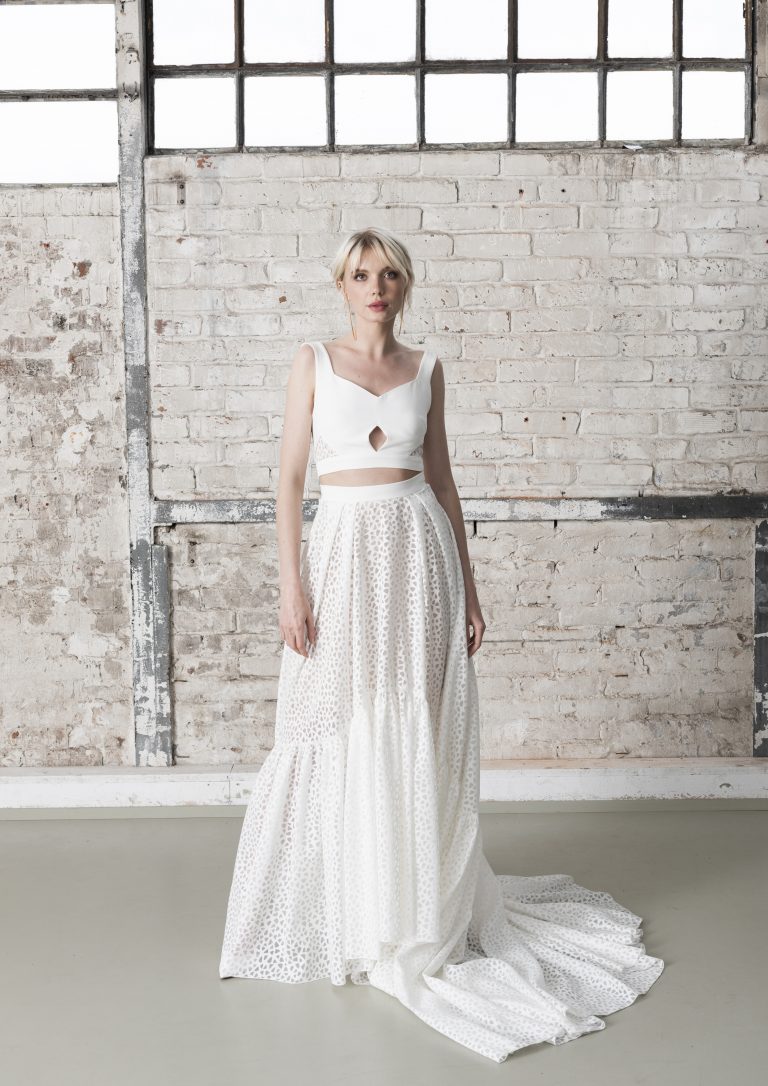 Details: Crop Top & Skirt with Volant – Modern Two Piece Set
Crop Top &  Skirt with Volant – Modern Two Piece Set
Two-piece dresses are very popular as bridal outfits. They are modern, unexpected and very versatile. A particularly modern combination is this tummy-baring two-piece.
The top is made as a tummy-baring crop top and is made of a modern fabric with a graphic pattern. The neckline is framed by a square cut-out at the front and back. Sexy cut-outs are semi-transparent underneath and only reveal a hint of the skin underneath. The top has wide straps and a golden zip at the back.
The Skirt is made of the same material with a graphic pattern. It is pleated at the waist and has an additional diagonal step with a fine gathering for even more volume. The skirt is shorter at the front, leaving your bridal shoes visible. In the back it ends in a great train. The waist is accentuated with a wide waistband and a golden zip adds a cool accent. The bridal skirt has a nude-coloured lining, making it slightly transparent. When you move, the pattern of the fabric really comes into its own.
Two-piece combinations give you the freedom to transition into your everyday wardrobe after the wedding, as you can combine them individually in wonderful new ways. For example, the Crop Top can be worn perfectly with jeans in a modern and young style.
The Top and the Skirt are made in Germany.
Found your Dress?
Get in touch with us or find a store to try on Crop Top & Skirt with Volant – Modern Two Piece Set!