kisui Berlin Collection
Inaya Flower Body & Osayi Skirt – Two Piece Set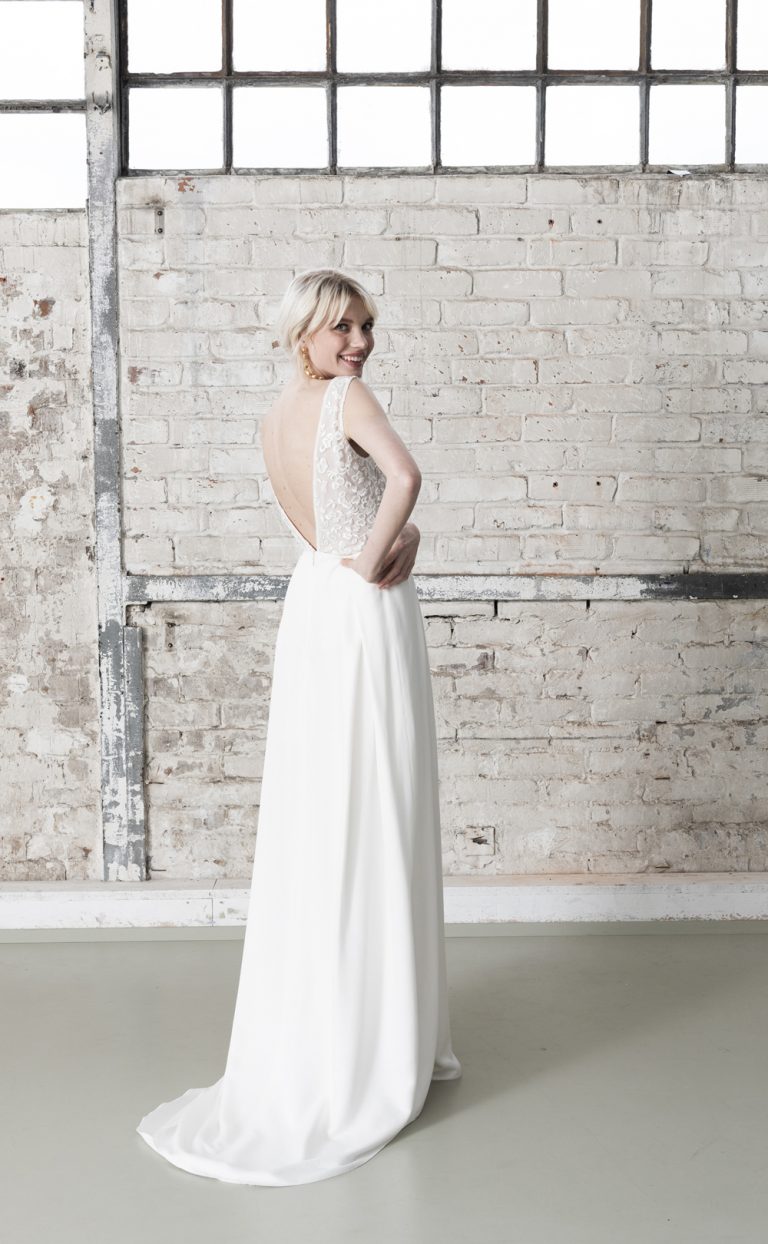 Details: Inaya Flower Body & Osayi Skirt – Two Piece Set
Inaya Flower Body & Osayi Skirt – Two Piece Set
Two-piece styles are very popular as bridal outfits. They are modern, unexpected and very changeable. A particularly modern and romantic combination is the Ianya Flower Body with the Osayi Skirt.
The Inaya Flower Body is made of Italian embroidery with a small floral pattern. The soft nude-coloured stretch lining creates a slightly transparent look. The bridal bodysuit has a V-neckline with wider straps. The back is set off particularly beautifully with a deep V-neckline. A delicate lace border decorates the necklines.
The Osayi Skirt is made of a wonderfully soft viscose-silk mix that feels simply incredible against the skin. The skirt is cut straight and decorated with deep box pleats. A train adds a touch of romance. The plain waistband makes it a perfect match for a variety of tops.
With the Inaya Flower Body, the Osayi Skirt is a romantic and at the same time modern combination. But of course you can style it in many different ways. For a cleaner look, you can choose the Inaya Body with its graphic lace pattern. For your winter wedding you can choose the Jorun jumper. The combination possibilities are very diverse and you can use them individually so that you feel completely comfortable.
Two-piece combinations give you the freedom to change into your everyday wardrobe after the wedding, as you can combine them individually in new ways. For example, the Inaya Flower bodysuit is perfect with jeans.
The Inaya Flower Body is made in Germany.