kisui Berlin Collection
Tulasa & Sua – Knitted Sweater with Trousers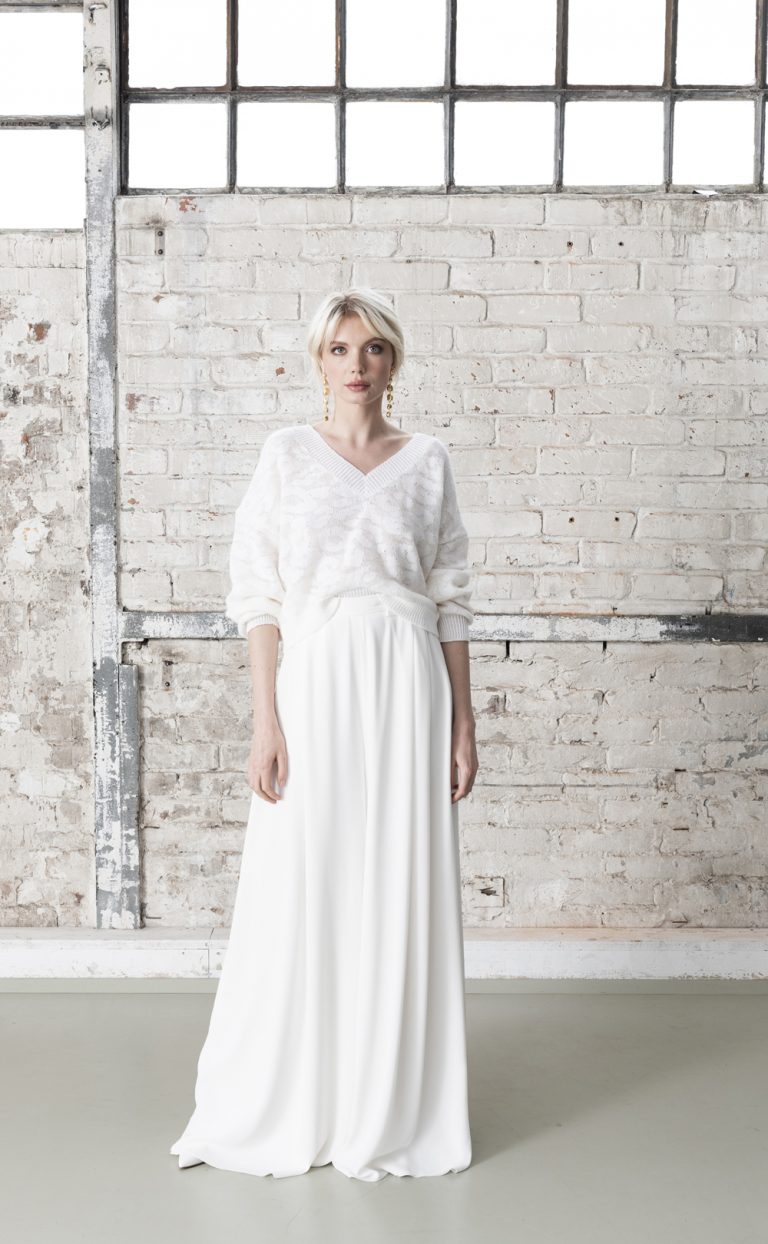 Details: Tulasa & Sua – Knitted Sweater with Trousers
Tulasa Sweater & Sua – Knitted Sweater with Trousers
Two-piece styles are very popular as bridal outfits. They are modern, unexpected and very changeable. A particularly casual combination is the Tulasa jumper with the modern trousers Sua.
The Tulasa jumper is knitted from wool and mohair in a trendy leo pattern. It has a loose and casual oversize cut and long sleeves. The bridal jumper can be reversed. It has a round neck and a V-neck. You can easily turn it to show either more cleavage or more back, just as you like. It has cuffs at the neckline and sleeve ends.
The Sua trousers are made from an ultra-modern fabric. PET bottles have been recycled and repurposed into fabric for this georgette, which is beautifully flowing and soft. Sua has a wide leg and a waistband with belt loops adorns the waist.
Two-piece combinations can transition beautifully into your everyday wardrobe after the wedding, as you can always mix and match them individually. The Tulasa jumper is sure to go perfectly with many of your styles!
Of course you can also combine our Sua trousers with other tops and jumpers. A romantic and wintry variation is for example our Jorun jumper with a flowery pattern. Or our Neve jumper if you are planning a spring wedding.
The Tulasa jumper and the Sua trousers are Made-in-Germany.